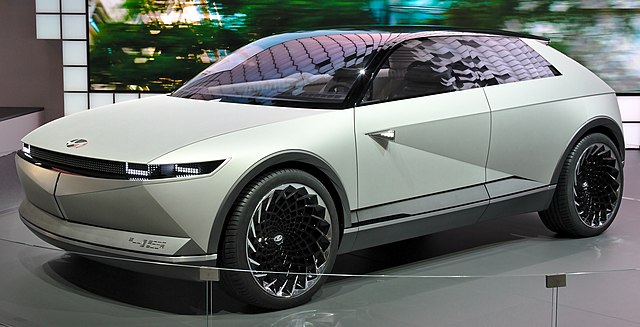 The Solar Roof Car
The South Korean stylish car maker Hyundai has unveiled new car technology in market. Hyundai has launched new SUV car in the market with a solar rooftop.
The concept car was seen at the 2019 Frankfurt Motor show. Hyundai is one of the popular car brands in India.
Senior Vice President of Hyundai Motor Group Mr. Heui Won Yang said that Hyundai Motor is moving towards becoming a clean mobility by providing Solar Roof Technology in his cars.
This solar roof technology allows car users to overcome emission issues. The Hyundai Ioniq 5 has officially announced fully electric, mid-size CUV in the market.
Know the Working Process of Solar Roof Technology in Car.
The solar roof system holds the structure of silicon solar panels that are contoured on the car's roof surface. The solar panel gets charge even while driving the car and can charge up to 30 to 60 percent battery per day.
It is a joint fitting of solar panel and controller. Electricity is generated when solar energy activates solar panel's facet. Later this energy converts by using photons of light from the sun. Further electron-hole pairs are created in silicon cells which generates solar electricity.
Now the electricity is converted into the standard voltage by the controller and after this stored in the battery.
Hyundai Ioniq 5 Delineation and Features
The new solar roof car is designed on Hyundai's new E-GMP platform (Electric-Global Modular Platform), that represents an impressive 800V framework that enables higher charging speeds. This kind of technology is seen only in expensive luxury electric vehicles.
The Ioniq5 car has an amazing feature in built that it can charge other vehicles when it is left with more than 15% battery. If it has less than 15 percent charge it will not share with the other car.
The charging of other can be slow as Ioniq5 car has only 3.6kW charging speed. This feature is used in case of emergency where no charging points are available nearby. This iconic feature of the car not only charge other vehicles but also e-bikes, e-bicycles, and electronic devices can be charges. How cool this is.
The IONIQ5 car comes in two variants, featured with two different battery sizes, a standard 58 kWh battery and other 72.6 KWh long range battery. At a single charge the battery gives the standard backup up to 200 km of range and latter can provide up to 500kms. The car comes with both All-Wheel Drive (AWD) and Rear Wheel Drive (RWD) drivetrain.
The solar car supports fast charging due to its 800v variant. The car can charge from 10 percent to 80 percent that too in just 18 minutes with a powerful 350 kW charger. 50 kW charger takes 1 hour to charge the same.
Hyundai Ioniq5 has offered 12.25 inch screen setup on dashboard of the car. Another one is located behind the wheel and acts as digital instrument cluster for the driver.
Hyundai has offered heads-up display (HUD) in the car which keeps driver informed current speed limit and navigation directions onto the windshield. You don't have to distract your driving concentration.
The Ioniq5 car will be first launched in UK between March and May in 2021. This Hyundai's new electric car will be the most expensive car which can be range in between $63,000 to $80,000 dollar.
While many other automobile competitors are just in research to step the shoes in electric car segment, Hyundai is all set for sale of his electric car.
Car companies in India like Tata Motors already have electric cars selling in market.